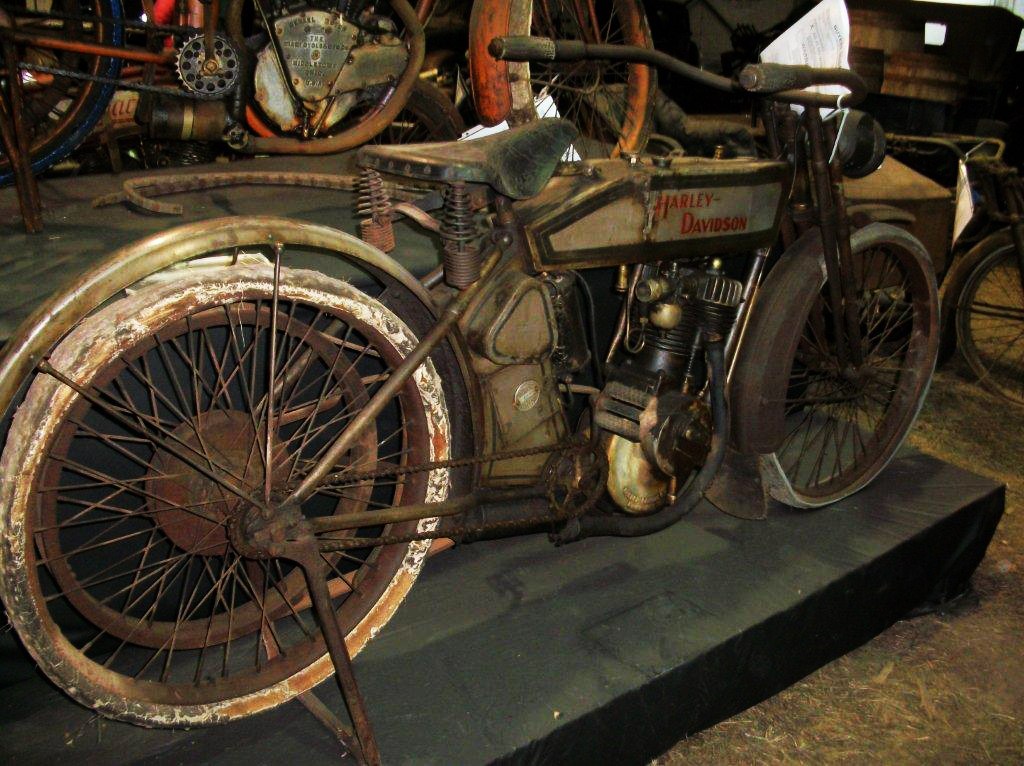 1912 All original Harley Davidson Single. Hammer price $115,000.
Since the passing of Leroy Hartung, there had been much speculation as to what would happen to the vast collection of vintage cars, motorcycles, parts, license plates, and hundreds of other collectibles that he had amassed over the past fifty years.
It was announced in early September that Auctions America, a division of RM Auctions, had negotiated a deal with the Hartung family, and would be offering Hartung's fifty year collection of mostly untouched treasures for sale at a "NO RESERVE" auction. Being very active in the collecting and restoration of vintage motorcycles, I had heard about the collection in various circles a few years ago, and had wanted to at least visit this fine collection and see for myself what these finely preserved pieces looked like in their untouched and finely preserved state. So, when I learned in early September while attending the RM Auburn Indiana auction that the Hartung collection was to be offered for sale to the public, I began making plans to attend to see if I could, perhaps, pick up a piece or two for my own collection.
We loaded the motorhome up with food and fuel and, along with Ray, my driver, and John, my mechanic, we set out for the sixteen hour ride to Glenview, Illinois which is a suburb of Chicago. Also along for the trip was my friends Sean and John from New Jersey. Sean was driving the new truck and toting the new 26-foot enclosed trailer. That made five of us with the bus, pick-up truck, empty trailer, and a few blank checks ready for action.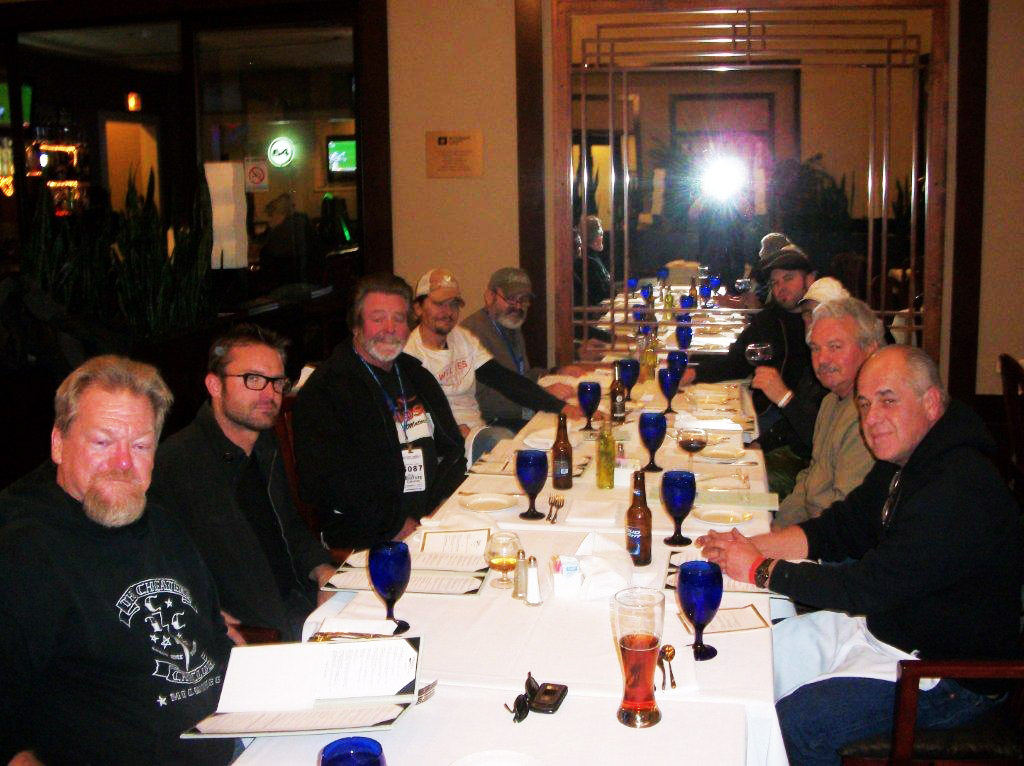 After auction dinner. Guess who picked up the check?
Upon arrival at the auction site, I noticed unusual high security and an unusually high entrance fee. I later learned that this had to be done in order to accommodate the large crowd that was expected and to insure that the real bidders could at least get a seat and could also inspect the items for sale without having to deal with the enormous crowd of spectators that was expected. The RM boys were expecting us because I had pre-registered, and I was given VIP access as I am a regular at the RM venues. An article that appeared in Old Cars Weekly reported that people from 45 states and nine countries had attended. All the hard-core collectors were in attendance. To name a few: Lonnie Isam Sr. and Lonnie Jr. along with Dave Minerva, Billy Campbell. Mike Terry, Vince Martenico, Dave Lightner, Matt Waulksler, John Szlay, etc.

The first items that came into view upon entering were the cream-of-the-crop best items. I was especially interested in the 1911 Flying Merkel, the 1912 Harley Davidson, the 1911 Excellsior, and the 1950 Veritas BMW with Spohn coach work. Naturally, these were the items that I had the most interest in and, after the dust settled, I became the proud owner of the 1911 Excelsior and the 1912 Harley Davidson. Both are in pristine original condition. The Old Cars Weekly article described the Harley as the best existing example in the world. I did not win the 1911 Flying Merkel but, when asked what I thought about the $200,000 price that it brought, I said that I was very happy to see it bring such a large amount of money because I currently have ten of them!
Visit our Sales page
to view these two pieces in their current condition.