AUTO BIOGRAPHY
"It's the rarest model of the rarest make"
The Speedwell sports car's owner says it's likely the last one around By Peter C.T. Elsworth JOURNAL STAFF WRITER
This article appeared originally in the November 21, 2009 edition of the Providence Journal in section D projo.com Cars



WARWICK
There aren't many Speedwell Speed cars around.

Speedwell Motor Car Co. was only in existence for seven years, from 1907 to 1914. Apart from its Speed Car, the company is perhaps most famous for building a closed car in 1911 that was the first to be called a sedan.

Local collector and restorer Dick Shappy recently bought a 1912 Speedwell Model H Speed Car, and he traded in some impressive cars to make the deal.


"In 1912, 50 horsepower was a lot"
"It's the rarest model of the rarest make," he said.

Like the 1911 to 1915 Mercer Raceabout and the 1912 to 1916 Stutz Bearcat, the Speedwell Speed Car was an early American sports car.

"They were big cars made as the sporty model", he said.

At the same time, Shappy said his gray car with crimson detailing was a production speedster that was not intended to be raced.

But it was fast. The car has four 5.5 inch bore cylinders that produce 50 horsepower.

"I'm not sure that means much to anyone now, but in 1912, it was a lot of horsepower," Shappy said, adding that it had a top speed of about 60 mph.


The car is distinguished by massive brass Rushmore headlights, a winged hood ornament, and a monocle windshield.

It formerly belonged to James Melton, a popular singer in the 1920s and 1930s who turned to opera singing through the 1940s. He was also a car buff, and he set up the James Melton Autorama museum in Hypoluxo, Fla.

The museum was closed after his death in 1961, and the collection of 100 cars was sold.

The car was subsequently owned by Winthrop Rockefeller, former governor of Arkansas, and Bill Harrah of casino fame. Harrah died in 1978, and much of his collection was sold off, with the remainder making up the National Automobile Museum in Reno, Nev.

Shappy said he bought the car from Manny Dragone of Dragone Classic Motorcars in Bridgeport, Conn.

He said Dragone had purchased it from a Dutch collector, and shipped it back to the United States.

He said his purchase involved cash and barter. The barter involved Shappy's parting with a 1929 Packard Model 645 Super Roadster by Rollston, a 1927 Rolls Royce Springfield Piccadilly Roadster, and a 1953 Morgan Plus 4.

"That's the good thing with Manny," he said. "It's not just money. You can come up with trades. It's like selling all those cars."

How rare is it?

"It's probably the only one, " he said.

Shappy said he had won several awards with the car. It won Best of the Best at the 2009 Fairfield County Concours d'Elegance, and the 2009 Goddard State Park Auto Show.

It also won first place for "Early Brass Cars" at the Fall meet antique car show at Redding, Conn.

Like the Bearcat and Raceabout, the Speedwell is a wide open car with large wooden-spoked wheels. The oil and gas tanks sit behind the seat with two spare white tires strapped at an angle across the wooden box that serves as a trunk.

The dashboard is replete with brass instruments; an indentation below the accelerator serves to keep the driver's foot in place.

"Listen to that thing, "Shappy said as it approached with his mechanical assistant, Greg McDermont, at the wheel. "It's geared real low."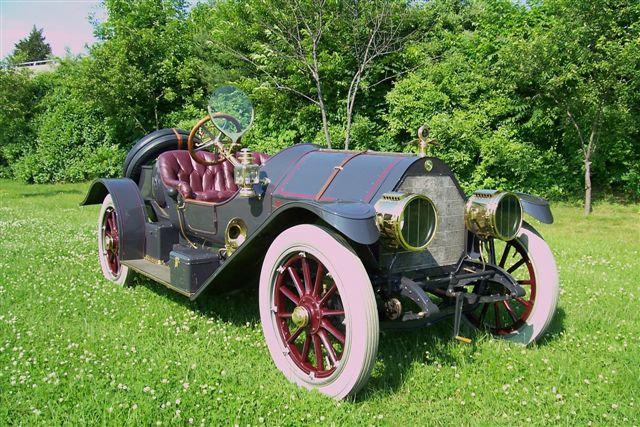 Shappy, who was recovering from foot surgery during a recent visit, was interrupted several times by calls about the appearance of Amy Fisher at his Cadillac Lounge nightclub this weekend. He said while Fisher was proving to be a popular attraction, the organizational side was proving difficult.

But neither his recovering foot nor the calls hindered him from conducting a tour of his workshop where he and his team were in the final stages of restoring a remarkable 1930 V-16 Cadillac hot rod made by famed hot rod builder and dry lakes racer, Charles Dimmitt.

The two-seater was both long and wide with sweeping running boards big enough to sleep on. Shappy said it was made to race on the salt flats of California and Utah as a so-called "dry lakes racer."

Shappy and McDermont said the car was almost finished although it appeared untouched, down to the scuffed paintwork and worn seats. Shappy said the car was in too good a condition to restore further.



Vintage motorcycles on the 2nd floor
Upstairs, Shappy gave a tour of his early American motorcycle shop with about 25 bikes from the early 1900s. Some restored, others untouched. Shappy has been collecting and restoring cars for more than 30 years. About ten years ago, he became interested in vintage and antique motorcycles. Currently his motorcycle collection includes such makes as Harley-(David)­(son), Indian, Thor, Merkel, and others.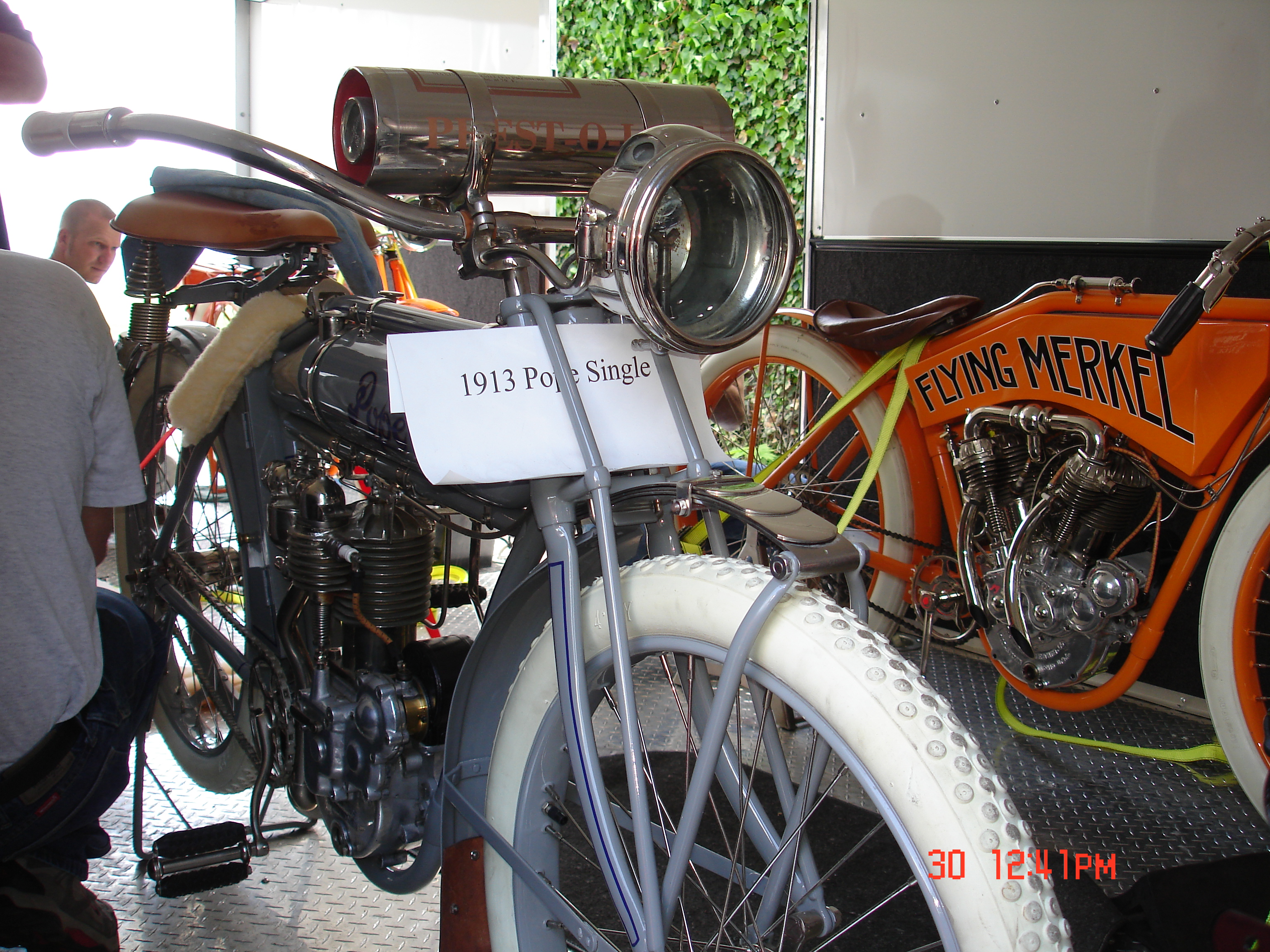 Shappy has made a specialty of restoring the bright orange Merkel bikes. Showing off the front and rear suspension on a 1914 Flying Merkel Twin, he said designer Joseph Merkel was way ahead of his time.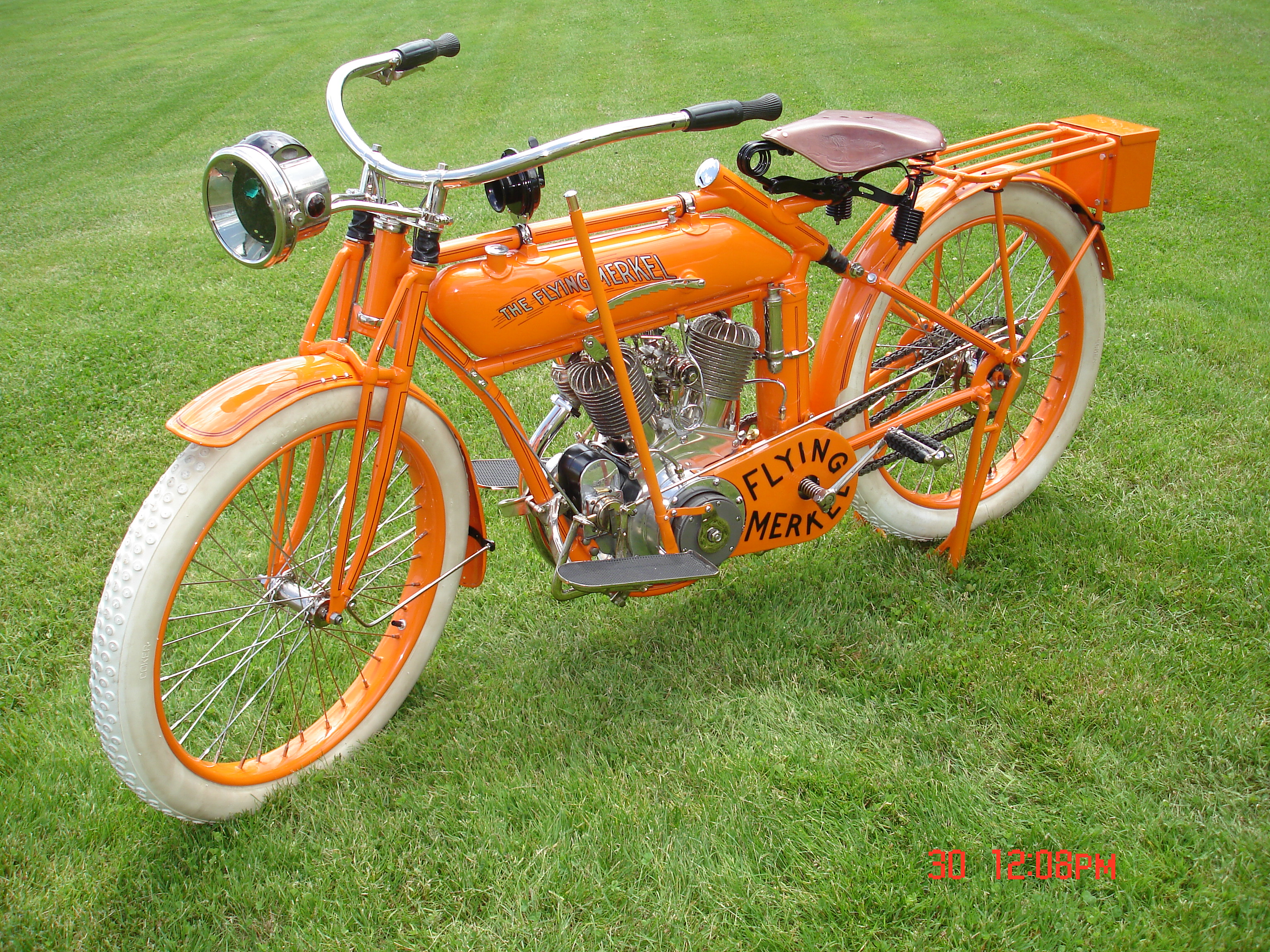 A particularly dramatic bike was an unrestored 1919 Indian Power Plus motorcycle from World War I with an M1917 Browning machine gun mounted on the sidecar.

Complete with a belt of (dud) bullets feeding into the deactivated breach, the bike looked like it had just been dug up from the old battlefields of northern France.