2017 Ocean State Vintage Haulers Annual Spring Show
This article was published in the June 8, 2017 edition of the Johnston Sunrise
by Pete Fontaine
Antique truck show hauls in fun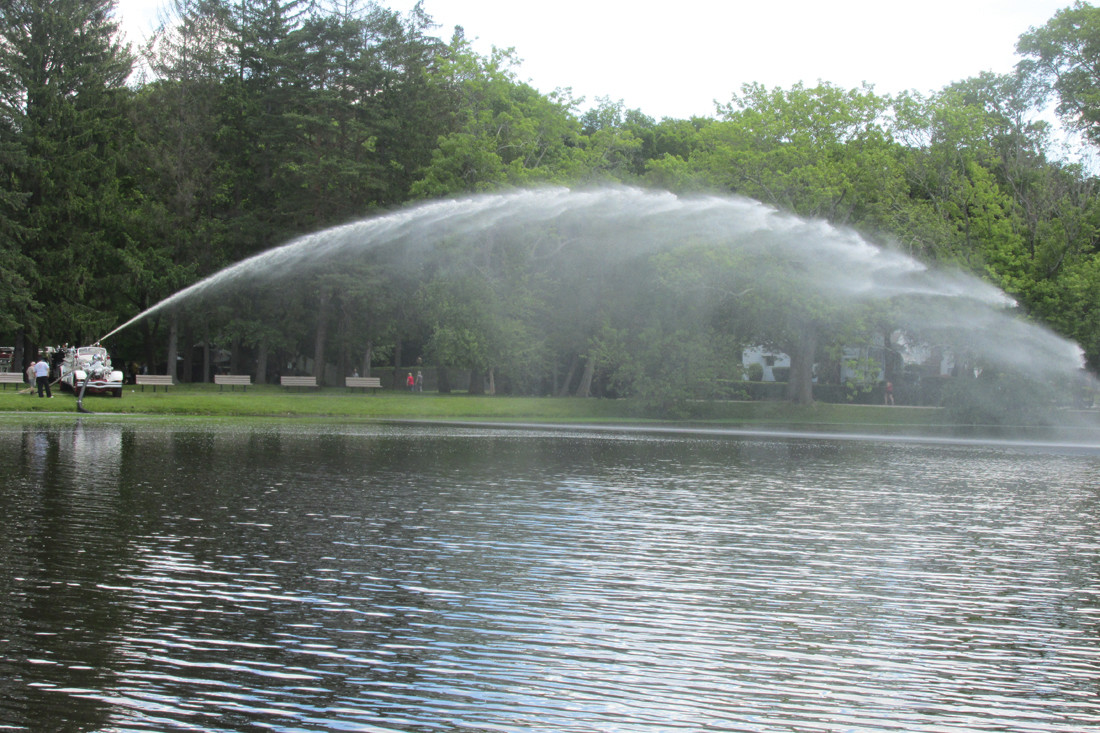 Trucks have always been part of most boys' early childhood fantasies. Through the years, kids have had a special affinity for all shapes and sizes of trucks, especially police, fire and military vehicles. As the old adage goes, "Little boys play with toy trucks and bigger boys tinker with the real McCoys."

On Sunday, Johnston War Memorial Park was the mecca for truck lovers, as dozens of spectators were aghast while walking around and looking over a wide variety of trucks and chatted with their owners during the Ocean State Vintage Haulers Annual Spring Show.

"We've got 60 different trucks here today," said Joe Pingitore, who owns and operates J. Pingitore Sons Construction and Paving in Johnston "This is a pretty good turnout, considering the wicked weather that has kept crowds down at all outside events this spring."

The Rhode Island Military Vehicle Collectors Club showed up with all kinds of vintage U.S. Army vehicles, while the R.I. Antique Fire Apparatus Society that's based in East Greenwich and headed by President Richard A. Quetta had quite a display of old-time fire trucks that were admired by young and old alike.

"We try to make all our shows special," said Pingitore, who serves as president of the Ocean State Vintage Haulers, which is a club that celebrates the tremendous impact the trucking/hauling industry has had on the country. "All our members collect and own these beautiful vintage trucks you see here today."

As Pingitore and Vice President Ron Rossi, who owns and operates Rossi's Christmas Tree Farm in Cranston, said, "We are the Rhode Island Chapter of the American Trucks History Society [ATHS] and we are always looking for new members to join."

Perhaps even more impressive is that the Ocean State Vintage Haulers don't charge admission for their shows and only require a $10 entry fee from people who want to show their vintage vehicles.

While there were trucks of all sizes, shapes, colors and makes Sunday, the talk of the show was Johnston native Richard "Dick" Shappy's 1939 Ahrens-Fox fire engine that once serviced the township of Belleville, New Jersey. Shappy, who lives in Warwick, is a true hobbyist who has been collecting and restoring antique automobiles for over 30 years and goes to great lengths to achieve perfection in his restorations.

"Richard has an amazing collection of vintage vehicles," Quetta, who owns his own antique fire engine, said. "He's also friends with another classic car collector we know as Jay Leno, who also has a classic old-time fire engine. But this Ahrens-Fox is a special story"

It's a story, Shappy, whose grandfather had a garden off Flanders Street in Johnston next to the Pingitore homestead, began writing back in October when he bumped into his long-time friend Richard Klein in Hershey, Pennsylvania.

Klein, who owns the Imperial Palace in Las Vegas, asked if he was interested in the white, old-time fire truck and pumper that is reportedly one of only three of its kind in the country. Before long, Klein and Shappy shook hands and the deal was done.

"I didn't even know if the truck ran or it pumped," Shappy said. "But Richard is a great friend and I wasn't worried. So, I had it shipped here and had my guys working on it."

Two weeks ago, Shappy had the Ahrens-Fox trailered to Webster, Massachusetts for the Tri-State Fire Apparatus Show.

"As it has been today, Richard's fire truck was a huge hit in Webster," Quetta said. "Funny thing, though, that was the first time in over 40 years that the truck actually pumped water."

And the unusual pumping of water back into the pond inside Johnston War Memorial Park amazed young and old alike to actually seek out Shappy and talk with him about the 1939 Ahrens-Fox and many of the other vintage vehicles he owns and stores in a Providence warehouse.

Quetta, like other members of the Rhode Island Antique Fire Apparatus Society, is hoping that Shappy brings the 1939 Ahrens-Fox to that unique non-profit show that will be held on Sunday, Sept. 17 from 10 a.m. to 3 p.m. at Burr's Hill in Warren and will include burgers, hot dogs, drinks, and entertainment as well as some of the most unique, colorful and restored fire engines in New England. For more information, visit www.RIAFAS.org.


(Article and photo used with permission)