Brass Gass
Written By Peter C.T. Elsworth of The Providence Journal
Photos By Steve Szydlowski
June, 2007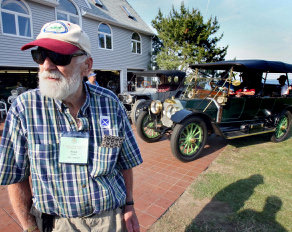 WARWICK They tick and whine and grind, but the pre-1915 brass car is a work of art, a piece of moving history, and about 130 of these beauties are currently cruising the back roads of the Ocean State.

You may have seen them, set up high and bumbling along on their narrow tires, their eponymous brass work gleaming in the sunshine.

Yesterday, they motored from the Crowne Plaza in Warwick (which is currently surrounded by trailers used to bring the cars in) to the Quonset Air Museum; on Monday, they had motored from Mystic, Conn., for an ice cream social at collector Dick Shappy's house in Warwick.

Today they are motoring over to the Steam and Wireless Museum in East Greenwich.

The New England Brass and Gas Tour, which runs through Friday, was organized by the Stow, Mass.-based Autoneers Regional Group of the Horseless Carriage Club of America. The HCCA is based in Oakhurst, Calif.



There were thousands of independent American automobile makers in the first part of the 20th century, as regional coach companies, bicycle shops and machinists all vied to get in on the cutting edge technology of the day.

Indeed, many of the makes of the cars on the tour – Lozier, Alco, Hudson, Pope Hartford, White, EMF, Marmon, Simplex – have long been out of business.

"Each one is distinctive – built by people all of whom thought they had the answer," said Meyer, who has a 1906 2-cylinder Reo that he left in Los Angeles. "Not so for most of them."

At the same time, more than half the cars were either Buicks, Cadillacs or Fords – a testament to both their staying power and popularity at the time.

Much of the coachwork and upholstery harks directly back to the horse-drawn carriages that the automobile was beginning to supplant. Many of the wheels, for example, are made of wooden spokes and the seats are leather padded with horsehair. Out front, massive kerosene lamps also recall the horse-drawn days.

Ann Finn, of Roxbury, Conn., was standing beside her 1912 Simplex 50 on Shappy's lawn Monday in her full-length, lightweight duster coat. "There are no side curtains," she said. "These keep the dust off."



She and her husband have owned the car for 10 years. They bought it restored, but she added, "They do require a lot of maintenance. The more brass there is, the more there is to polish."

Andy Oldman of New Hampshire, who was driving a cream 1912 seven-passenger Touring Alco, confirmed the work involved. He said he had done some mechanical work on the car since he bought it, but added that it was "a half-time job to keep these guys on the road. Polishing the brass is a 40-hour job."

He also said the drive from Mystic had been hard work. "It's tough to keep it on the road," he said. "It's a bear to drive, but very reliable and beautifully constructed."

Alco was the brand of the car-producing unit of the Providence-based American Locomotive Co., the second largest manufacturer of steam engines in the United States. The cars are valuable today because they were very well built but are limited in number because the unit was closed down in 1913 after just a few years of production due to financial losses.

Meyer estimated that Warren Kraft's green 1911 Alco Tonneau, for example, is worth at least $500,000. This compares with a modest $20,000 or so for a Model T Ford of the same era.

Meyer also said it was important to keep the cars running. "The value of these cars drops to nowhere if you can't get them out on the road," he said.

Kraft is touring with his son, John, both of Cold Spring Harbor on Long Island, who is in the car restoration business said, "(My father) has been in the hobby since it started and I caught the infection shortly after conception".

"Much of the technology used today was used on these cars," he added.

Indeed, Meyer said he is currently writing a book on truck-maker Herbert Dawley who developed – and patented – power steering during World War I but had to wait until 1953 to see it go mainstream and get his money.

Harold and Lille Coker of the famed Coker Tire Co. of Chattanooga, Tenn., had brought their 1912 Model 38 Pierce Arrow which is unique in having a right-hand drive.

"There were more ditches than cars in those days," he said, explaining that having the driver over on the side helped keep it out of the ditches. Pierce Arrow later adopted the left-hand style that had become standard in 1913.

Wayne Leonard had trailered his green 1909 Lozier, which was built in Plattsburgh, NY, all the way from Longmont, Colo. The car was distinguished by a small mechanic's seat set on the running board and unprotected from the mud of the road, let alone the elements.

Chris Figge had trailered his 1911 Ford Touring Car from Ohio along with his wife and his friend Dave Stalnaker and his wife. Figge and Stalnaker had been neighbors in Marietta until recently and had gotten into restoring cars together. "We look for cars to restore," said Stalnaker, noting he currently has four cars and Figge three cars.

Michael Germane of Barrington was driving his 1914 American LaFrance Speedster. LaFrance was founded in 1832 as an emergency vehicle maker, and is still in business making fire engines, but for a few years produced motor cars as well.

Germane's car is armed with a massive exhaust system and a chain drive. A decal on the side indicates it took part in the 2002 San Antonio, Texas, to Anaheim, Calif., rally.

Frank Sawlor was watching the cars at Shappy's home. Sawlor founded the first brass car tour with the late Frank Gardner in Woodstock, Vt., in 1966, the same year that he bought his 1912 Packard.

"We wanted to see as many brass cars that we could," he said.

"Hey, that's the first bunch of turkeys we've seen," said Coker in his Tennessee drawl when he spotted a couple of brass cars up ahead on the trip to Quonset.

He and Lille waved as they drew up. "The cars bring us together, but the people, that's what it's all about," he said.