Cadillac Man
By The Providence Journal
August 16, 2006
Dick Shappy rubs elbows with the likes of Jay Leno, and, like Leno, he rolls up his sleeves and gets his hands dirty restoring his collection of classic cars.

Most of his fleet of some 40 cars are Cadillacs, but there are notable exceptions, plus 17 motorcycles, pedal cars, and other memorabilia that is the result of 35 years in the hobby/business. "I've always had the bug," he says.

He is known nationally and can be found at the most prestigious auctions and shows. His extensive collection of Cadillac parts makes him the go-to guy for many restorers worldwide, and he has the uncanny ability to identify antique parts at a glance. Museum directors and car club members hold him in high regard for the sad body shells that he has restored to concours specifications. "You have to see his collection," they say.

Not bad for a guy from South Providence who started out with a 1931 Model A Ford.

Now Shappy, 61, has eight garage bays at his house on Warwick Neck, where much of the restoration takes place, plus three more cars in a tent and one in a trailer. A warehouse in Providence houses the rest of his collection.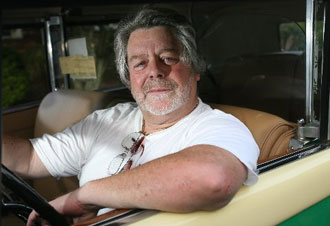 He treats it as a hobby but runs it like a business, paying taxes on his profits. "You gotta show uncle," he says. But there are no regular office hours, and don't call demanding parts. "I tell people, look, I'm doing this to help you out."

So, why Cadillacs?

"At one time, I was into Jaguars," Shappy explains. "If you've ever been into them for a while you can understand why you'd get into something else. And I had 15 fire trucks, and then I got into Cadillacs and found my niche. I've probably got 30 of them now."

He loves the rare 16-cylinder prewar models, and the fascination is so great that, one Sunday morning, he drove to southern New Jersey just to hear a 16- cylinder engine run. "I never thought I'd own so many of them," he says. "I have three now but I had seven or eight at one time."

The Cadillacs from 1929-1933 are the "height of excellence," Shappy says. "They were all hand-built, before Fleetwood [the coach maker] was bought out by Cadillac in 1931." A 1930 V16 all weather Phaeton (related article) is at the top of his list right now, but it's in danger of being displaced by the 1934 Duesen­berg convertible sedan that is in the final stages of restoration.

"No one else in Rhode Island has a Duesen­berg," Shappy says. There are only 450 or so that survived." He found his Model J, with body by Derham, in 2004, part of an estate sale in Winchester, Mass. He had always aspired to own a "Doozie," and he bought it on the spot. At about the same time, Leno, who grew up in Andover, Mass., not far from Winchester, found a rare Model X Duesen­berg near his Southern California home, and he and Shappy were the subject of a story about fantastic "barn finds" in Old Cars Weekly last year.

Shappy has been to Leno's car barn - a couple of airport hangars, really - and swapped stories. Leno is reluctant to reveal how many cars he owns, but Shappy puts the figure at about 120.

This month, Aug. 5 and 6, Shappy took two cars to the auction at the prestigious Meadow Brook Concours outside Detroit, a 1916 Crane Simplex torpedo speedster and a 1930 LaSalle five-passenger sport phaeton that he brought back from the dead. The LaSalle, an entry-level Cadillac in the '30s, came from a junkyard in Canada and had been chopped off behind the front seat for a platform that carried firefighters.

Another chopped-up Cadillac he restored is a 1928 convertible used as a rum- runner in the Catskills. "They cut out the whole back section and stored the alcohol in there," he said. "And it had a smokescreen built in. You pull the handle on the dash and it sends oil into the carburetor and drives smoke out the back." The restoration put the rumble seat back but the smokescreen device remains in place. The car also came with bottles of "moonshine" - boxes of it. But Shappy hasn't dared to try any. "It'll probably kill you," he said.

Shappy calls these projects "resurrections" and tells the story of the ultimate scrap heap, a pile of Cadillac parts advertised in Hemmings Motor News. "It was being sold by a bunch of skinheads in Oregon," he said. "It came from the lot of 20th Century Fox studios, which cut up the cars after they were done with them. They stacked them up and used it on Let's Make a Deal - behind door number 3, you've won this pile of junk!" He paid $2,000 for the pile, and came up with the makings of two cars, and put a 1918 Cadillac Type 57 laundry truck on one chassis.

"It was on a Model A chassis, and it didn't fit," he says. "Now it's perfect."

Besides being able to identify nearly any Cadillac part, Shappy knows exactly what he has and can put his hands on it. Anthony Broccoli, owner of Brock's Collision Center in Warwick, recalls the time they were getting a 1915 Cadillac ready for the Portsmouth Abbey show. "Sean [Brayton, of Red Star Auto] was here and we had been working for two days. It was 6 o'clock Saturday the night before the show, and Sean jumps in the car. It starts right up, and then he goes, awwwww, and holds up his hand with the entire shift lever in it. The amazing part is, Shappy had the part in stock."

Broccoli and Brayton do restoration work and get together with Shappy on Wednesday nights, along with Brayton's father, Chris, and Bobby Sullivan, for work sessions, pizza and beer. Shappy figures he has about 20 projects ongoing, plus the 1911 Osgood Bradley Trolley car being restored in Providence.

Despite his affection for his collection, Shappy says everything is for sale, for a price. "I never thought I would sell my 1933 convertible coupe, the only one made by Fisher Body," he said. "I had just finished a 10-year restoration when a guy called and offered me $300,000 for it. I said, no way, but he bid it up to $400,000 and I said sold.

"It's the ultimate Cadillac and I feel it will be a million-dollar car some day. But it paid off all my bills."

With all these Cadillacs at his disposal, Shappy's daily driver is a Mercedes SL 65, the V12 hardtop convertible. "You can't compare a modern Cadillac with one from the '30s," he says. "Today it's a glorified Chevrolet or Pontiac. But I did have an Allante [Cadillac's Pininfarina-bodied front-drive roadster made from 1987 to 1993] until they discontinued it." Shappy's Web site lists the cars in his collection and has reprints of stories about his Duesen­berg and a video of his appearance on Boston TV. Go to classiccars.ws