Dick Shappy's Duesenberg
By Fred Roe
Editor's Note: This is the full text of Mr. Roe's article as it appeared in the fourth quarter of 2006 in the "The New England Classic Quarterly". The photos mentioned by Mr. Roe are not available, therefore, we have substituted the photo shown below.


Yes, it is Dick Shappy's car now, but to a few of us New England old timers, we know it as Phil Cade's Duesen­berg. After all, Phil and Peggy Cade owned it from 1942 until it came into Dick's hands in 2005.



Click here

for photos of Shappy's "Barn Fresh" find.



That is over sixty years. While in most of those years it remained, unused, in the Cade garage, early in their ownership, it was conspicuously active in the New England area. I don't remember when I first saw it, but the Cades became very active in The Sports Car Club of America which was hatched in 1944 in Boston, and soon after the war ended, it was frequently engaged in rather informal events at Thompson Speedway in Conn­ecticut. That is probably where I first saw it. Phil and Peggy became officers of the SCCA and helped run some of these gatherings. The attached poor photo shows the Duesen­berg in the infield at Thompson bearing a competition number, showing that it competed. I also remember seeing it in later years stationed at a location on the course, in use by flag men.

These two photos show the car in the lot of a section of MIT housing along Memorial Drive in Cambridge, next to the long gone Smith House Restaurant, shown in the background of one of them. These pictures were taken by Phil Dumka, then a student, and show a 1949 license plate.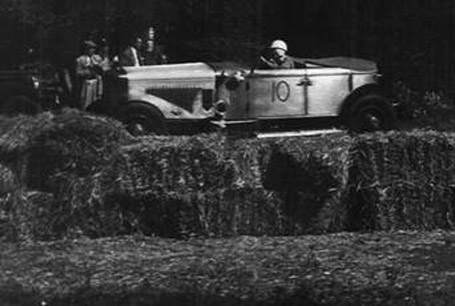 In later years, Phil Cade acquired a Maserati racing car and used the Duesen­berg to tow it to various places. This car is one of five short wheelbase convertible sedans with the same body style, constructed by Derham to a design by Gordon Buehrig. They appeared in the last half of 1931. This car, 2523-J505, came off test in December of that year. Four of the five remain in existence.

Just one, serial #2494-J469, is gone. It was scrapped in wartime in the New Bedford area, we believe. Its original (and apparently only) owner, Demarest Lloyd, had a varied career in various positions in Washington and Philadelphia and had property on the south coast of Mass­achu­setts where a waterfront reservation is named for him.

All four existing cars belong to CCCA members. Tom Armstrong in the northwest has owned 2506-J488 since 1979. It carries a supercharged engine and one of the rare eight branch exhaust manifolds, and Tom keeps it in active use. Clifford Stranburg of Oregon has 2486-J475 in Oregon, the car with the lowest number, which has been on the west coast for a very long time, previously in the hands of the late Charlie Norris and, before that, Gerald Strohecker, both good CCCA members.

Closer to us is the third car, if we consider the Shappy car the fourth survivor. This is owned by Keith Brown of Fort Wayne, Indiana and bears the modified Derham body that originated on 2536-J507, a supercharged chassis owned by H.G. Liebhart of Denver in 1933. This man had the body revised into a sedan with a somewhat streamlined tail and contoured rear window glass, and eventually it was removed from the original chassis. Keith acquired it way back as well as a chassis and engine, all of which he restored and rebuilt to a high standard over many years. Now numbered J-170, Keith almost always brings the car to the Labor Day meeting of the Auburn-Cord-Duesen­berg club in Auburn, Indiana.

Dick Shappy's car will undoubtedly acquire a nice paint job. Phil Cade took all the paint off when he first owned it so none of us here ever saw it other than in unpainted aluminum form. When Dick shows it with paint on it, then we will begin to describe it and remember it as Dick's car.

Here are photos of the work in progress. The finished product will appear in all its glory on the cover of a future issue.