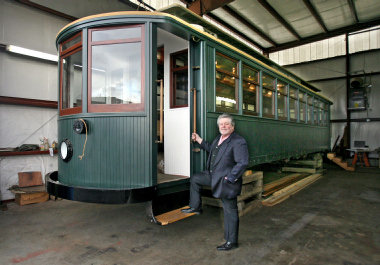 Indeed, it was in such bad shape it was only identified by the bolts on the undercarriage.
"By the bolt pattern, I believe that car to be an Osgood Bradley [electric trolley]," he said in a recent interview, citing an expert's opinion that got the restoration project started.
Shappy was standing in the workshop he built in 2004 to house the restoration project. He said the trolley had spent a couple of years in a parking lot under wraps after being trucked up from Warwick on a flatbed.
He noted that while he paid $1 for the salvage rights, bringing it up to Providence cost $6,000.
Subsequent research by Shappy and others, most notably the Shore Line Trolley Museum in East Haven, Conn., revealed it to be a 1911 Osgood Bradley trolley built in Worcester and delivered to the Rhode Island Co. on Dec. 14, 1912. It was the first of 31 trolleys delivered, number 1068 in a sequence that ran to 1099.
"I've always had a love for early Trans­port­ation history and a fondness for early trolley cars," he said, adding that he had been looking for an antique trolley for some 25 years before discovering the Osgood Bradley hidden in the diner.