New Life for a Local Icon
by J. MICHAEL LEVESQUE, Contributing Writer
Originally published in the Kent County Daily Times
July 10, 2021


Just talking about the diner gives most folks a flood of memories involving the great food, the animated cook, the friendly banter, and the best tourtiere (French meat pie) in the universe.

I can remember going there as a young boy with my dad and loving every minute of it, until he ordered a crazy dish of fried pork fat that to this day grosses me out to think about.

I can also remember going there as a young adult and listening to the constant political banter, mostly egged-on by owner Sam Richer and sometimes erupting into a heated discussion. In that cozy, ten-stool diner, there was no place to hide.

The daily characters were nothing short of extraordinary.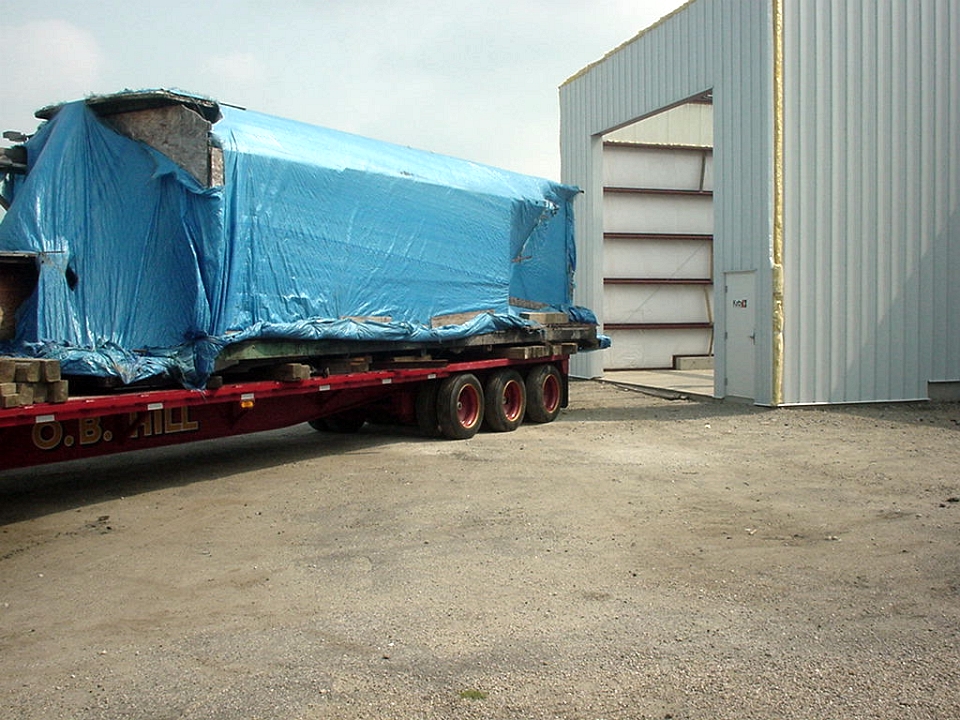 I can still recall Pacifique (Pat) Gauvin giving me the devil for being a "politician", though I think he was somewhat easier on me because I am of French-Canadian descent. And then, on that fateful day in September of 2000, a 79-year-old local contractor had a heart attack and slammed into it. The iconic diner would never open again.
It laid vacant until 2005, when the Town of West Warwick sold it to Warwick resident Dick Shappy for $1, with the condition that he moved it out of there.
Unbeknown to most of us, the diner was actually a renovated trolley car. And not just any old trolley, but an Osgood Bradley.
Dick Shappy knew that, though his initial interest was for the clock on the apex of the diner.
The rest of the story is fascinating.
The electric trolley, built in 1911, started in service in 1912 when it was purchased by the City of Providence, and rode the rails until 1939. At the end of the line, it was destined for a big July 4th barn fire at Rocky Point, when Leo Lavallee purchased it (in 1940) and converted it into a ten-seat diner, opening in 1941. It was later purchased by the Richer family in 1956, who skillfully operated it until that fateful day in 2000.
When Dick Shappy decided to save it, little did he know that the journey would be eventful, causing him to construct a new building on his property on Charles Street in Providence (adjoining his Classic Car warehouse and next to his Cadillac Lounge), and spent over $275,000 (and counting) to restore it exactly as it was in 1912.
Asked if he was a little off the rails (sorry, couldn't resist), Shappy smiled and said "probably."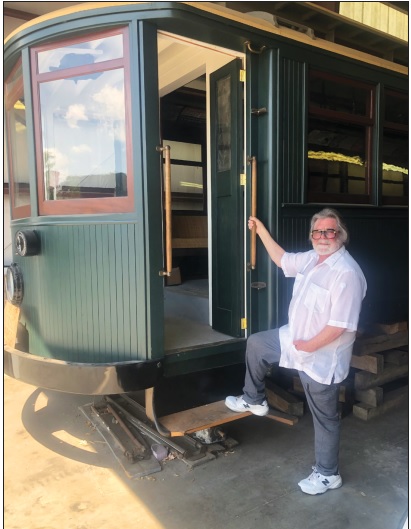 He explained, "it was a labor of love. When I get on something, I don't stop. I'm a restorer of antique cars and motorcycles (a classic understatement – as he is a powerhouse in the antique car world, hob-knobbing with the likes of Jay Leno and other celebrity enthusiasts) and wondered where all the trolley cars went?"
He continued, "I was told that they all went to South America, so I started looking into it. I did a lot of research."
It paid off.
When his son and his friend started peeling the old paint off the window sashes, they discovered that there was a number stenciled underneath: "1068." A little further research revealed that that was the number of the first of 31 Bradley cars produced (they produced numbers 1068 to 1099). It would be the only survivor.
When Dick Shappy asked me to come see that car, knowing my background in West Warwick, I was startled at what I saw: he meticulously restored every hinge, every window (86 of them were restored with original glass), every unique floorboard, and every working platform, including the old mechanical counters. (Not an easy task, as when they converted it initially into a diner, they chopped off the front and rear of the car, as well as some of the undercarriage). He even painstakingly replaced some of the original advertising signage that appeared on the curved wall slots, and also retained some of the diner's memorabilia including ash trays and the original sign.
Once he adds the wheels, it will be an exact restoration.
Asked what he will do with it after spending years completing it as well as hundreds of thousands of dollars, he was quick to reply: "I will eventually donate it to the Trolley Museum in Branford, Connecticut." A generous donation, to say the least.
And a fitting end for the first Osgood Bradley.
As for those of us who lived in West Warwick and surrounding areas, that number "1068" will always be the Veteran's Square Diner. A place where we grew up, heard the Gospel according to Sammy Richer over tasty eggs and bacon, and the place full of characters who helped shape a community.
And, oh yes, the place where hundreds of people pleaded with the Richer family to make "just one more" tourtiere during the holiday season.