Our New RV
By Dick Shappy
For the past several years, my friend Sean Brayton and I had talked about attending the national antique motorcycle meet which is held once a year in Davenport, Iowa. I had decided months before this year's meet that I would attend and told Sean that I wanted him to go as well. There are a few similar vintage motorcycle meets across the country each year such as in Hebron, Connecticut, Oley, Pennsylvania and Wauseon, Ohio, but the Davenport meet is regarded as the largest and most heavily attended. It is like the Hershey of antique motorcycle meets. I instructed my office to make plane, hotel and auto rental accommodations for us with an arrival date of Wednesday, August 27th and a return date of August 30th.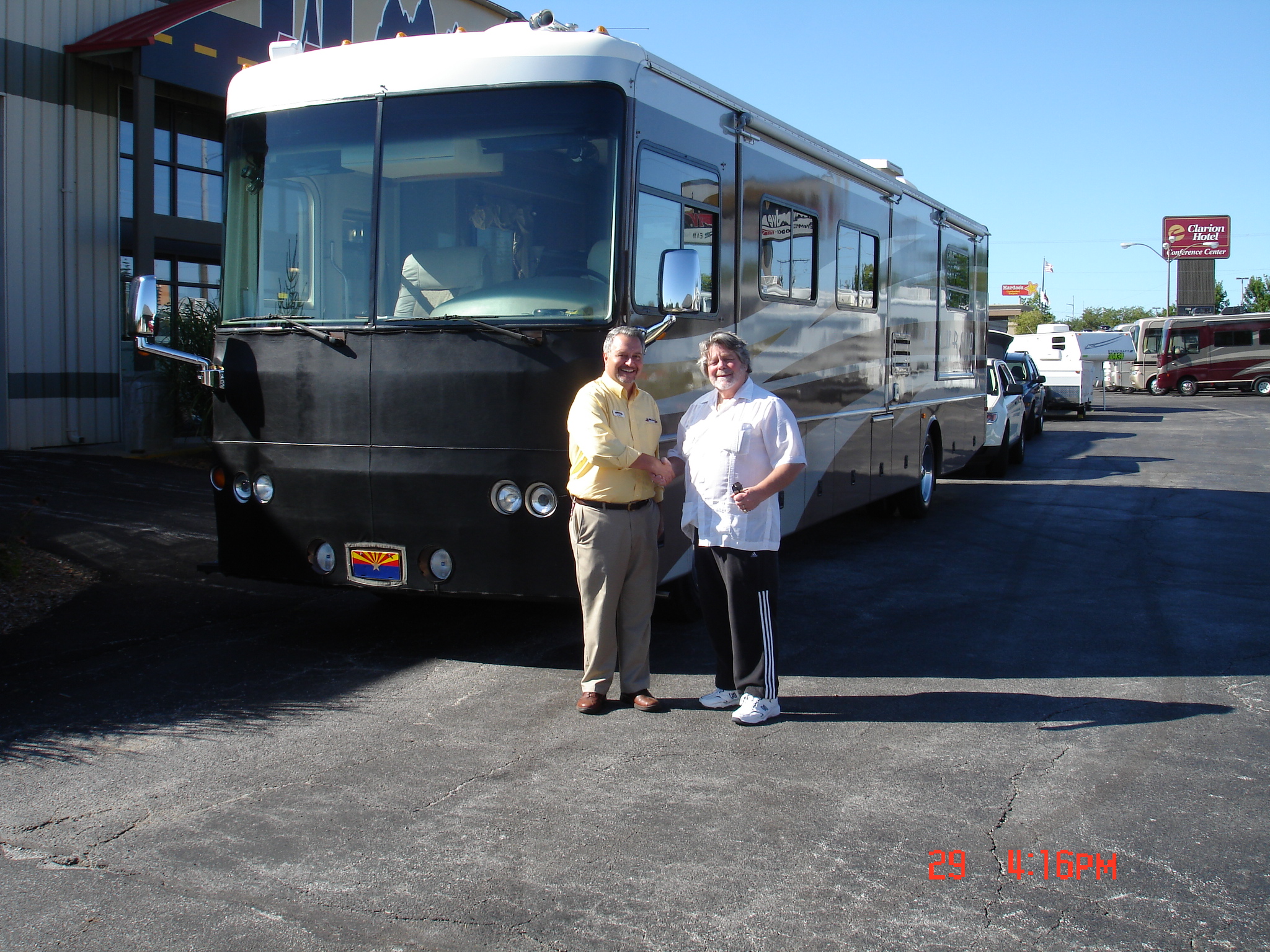 Upon arrival at the airport, we were told that the air lines were no longer taking curb side check-ins and we had to go to the counter with our bags. There was a lady at the counter who instructed us to use the computer to complete our check-in. She then told me that we had to pay fifteen dollars for each bag and offered us additional leg room on the plane for an additional thirty nine dollars. In the interest of saving time we forked over (in cash) the additional fifteen dollars each for the bags but declined the extra leg room because we figured that we could withstand the cramped quarters for the two hour flight to Chicago.

I put my bag on the conveyor and when it came out the other side the TSA guy said he had to open the bag to check the contents. He was interested mainly in my shaving cream can and was trying to twist off the bottom as if it had a secret compartment. When he learned that it was just a regular real shaving cream can he told us to proceed to the long check-in line where we had to take our jackets and shoes off. I walked through the metal detector and I guess my belt or rings set off the alarm. I removed those items and was allowed to walk through only to learn that my tooth paste tube was too large and had to be confiscated along with my bottle of Poland Springs water. We proceeded to the gate and were told that the flight was delayed for an hour or so but was not cancelled. The cramped flight finally got off the ground one hour and forty five minutes later and, throughout the flight, we worried that we would not make our connecting flight in Moline. When we got to Chicago, we were happy to learn that the Moline flight had been delayed as well so we were able to proceed.

The Davenport meet was even greater than we expected it to be and there was no way that we could see everything in two days so I called the airlines and asked if they could extend our stay for one more day as we didn't want to leave so soon. We were told that it would cost approximately fifteen hundred dollars to change our flight because we had received a special nonrefundable fare.

It just didn't seem to make sense as to why it should cost so much.

On our return to the hotel in Davenport, Sean said "Look at all those beautiful motor homes in that RV center". I instructed him to pull in so we could just "take a look". Upon entering the US Adventure Fleetwood RV Center, we were met by Joe Milano who was very cordial and friendly to us and had no problem showing us their extensive inventory even though the business was about to close. We told him that we were not at all happy with the air lines and felt totally restricted by them. He convinced us that with our own RV, we could be totally independent, live in luxury, and have an abundance of storage. I said "Storage? Can we fit a motorcycle?". He laughed and said, "let me show you what we have".

We told him that we were part of a group of guys who attend car shows and swap meets across the country and were interested in a quality RV that offered comfort and reliability. He showed us a few new high end pieces and then brought us to the main shop where a top of the line Fleetwood Excursion with virtually no miles on it had just come in. The more I looked at it, the more interested I became in owning it. After a little negotiating, I told Joe that if he could get it ready by the end of the next day, I would buy it.

We checked out of the hotel, went to the RV center, and picked up our new home and went back to the meet. We bought two vintage motorcycles and a ton of parts and stored everything in the storage compartments. When we were done with the Davenport meet, we drove east for six hours and attended the Kruse, and World Wide Auctions in Auburn, Indiana where we purchased two Packards and an Ahrens Fox fire truck.

We will be attending the Bonham's auction later this month in Owl's Head, Main and will certainly be at Hershey in October with our new Fleetwood Excursion. We will also be selling all our airline stock. Thank you, Joe Milano.