Preserving Classic Cars
By Peter C.T. Elsworth, August 2007
WARWICK The movement to conserve and preserve old cars rather than completely restoring them is gaining ground in the world of antique car collecting.

The interest is reflected in a new category – Postwar Preserv­ation through 1967 – being introduced this weekend at the prestigious Pebble Beach Concours d'Elegance in Monterey, Calif.

For years, the standard approach has been to strip down and restore an old classic to an exact, bright and shiny version of its former self, even if that meant recreating, even replacing parts, rechroming bright work, repainting the bodywork and redoing the interior – with colors often reflecting the new owner's personal taste rather than the original color scheme.

But a growing number of collectors are now focusing on trying to preserve as much of the original vehicle as possible. The chrome and paintwork may not be as shiny, the interior a bit moth-eaten and the upholstery worn, but the important thing is what you see is the original car, warts and all.

"There have always been a number of collectors who preferred to conserve their cars rather than restore them, but I do think it's a growing trend to preserve the history of the cars," said Scott Sargent, who runs a shop in Vermont specializing in Bugattis.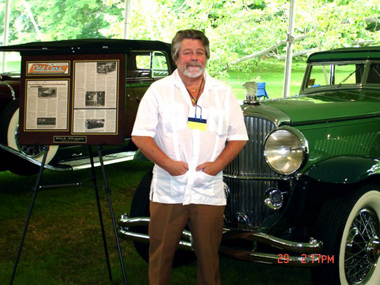 "I'm into authenticity, such as keeping the color, even if it's chartreuse – it's all historical information," he added. "It's like cleaning the Mona Lisa where you're removing the varnish that gives it its patina."

Warwick collector Dick Shappy, who has restored many antique cars, focused on preserving as much of his 1934 Duesen­berg J505 convertible sedan as he could. He purchased the car three years ago after it had been sitting in a barn in Mass­achu­setts since 1952.

"I tried to keep it as original as I could," he said during an interview at his house on Warwick Neck. "What's so important about this car is that it sat for so long untouched and unmolested."

Shappy said he bought the car from Margaret Cade, whose husband, Phil, used to race it before using it as a tow vehicle for his Maserati racing car. "When I came to view the car, we had to move it out from the wall about five feet and Mrs. Cade said that was the first time it had been moved in 52 years."

The Duesen­berg will be the featured car at the Fairfield County Region 56th Annual Fall Meet in Reading, Conn., in early September.

Sargent has also restored cars, most notably a rare 1935 Bugatti Type 57SC Atlantic that won Best in Show at Pebble Beach, in 2003.

Pebble Beach is the touchstone of concourses and entry is by invitation only. "They like cars that haven't been seen before," Sargent said. "Cars coming out of the closet after long restorations."

For a restored car to win 'Best in Class,' let alone Best in Show, it has to be absolutely perfect; there is no forgiving even the slightest blemish in the leather or chrome work, not to mention the body and engine. The prize can add as much as 20 percent to its value, according to some estimates.

Sargent's latest project, however, is not a restoration. Instead, he has spent the last couple of months cleaning up a 1938 Bugatti Type 57C Atalante coupe that was auctioned by Christie's at the Greenwich Concours d'Elegance, in June. The car, which had been sitting in a barn in Pound Ridge, N.Y., since 1962, was sold by the Straus family of Macy's fame.

"We determined that this car will never be restored," said Conn­ecticut collector Dennis Nicotra, who bought the car for $852,000 and spent $50,000 on having Sargent clean it up for Pebble Beach, where it is currently competing in the Prewar Preserv­ation class. "It would be a sin to restore a car that is so original," he added.

Nicotra said the main work on the Bugatti has been TLC and elbow grease.

"The car is incredibly pure," Sargent said, noting that the chassis and engine numbers matched with all the engine parts. The only things he replaced were the carpeting and the stuffing in the seats.

"The carpet was mouse-eaten so bad there was not a square inch left that could be used," he said. "And the upholstery had to be restuffed – the original leather was fine – and there were a few moth holes in the headliner."

"We drained all the fluids and cleaned out the engine sump," he added, and replaced all the rubber lines and the tires, and painted the wire wheels their original black. "And we also rebuilt the (hydraulic) brake system. The most significant thing was the blower (for the supercharger) – the leather seals were worn."

Shappy readily admits that his Duesen­berg, which was originally owned by the Wrigley family of Chicago, may be a magnificent car and mostly original but it is not currently Pebble Beach quality: It is not original enough to compete in the Prewar Preserv­ation class nor restored enough to compete in the Duesen­berg J and SJ class.

He said he had to change the upholstery and fabric in the convertible top, plus the bumpers, lights, and wheels, and he painted it an elegant two-tone green with a thin "fawn brown" stripe along the body. He said he used original Dupont colors from the era, but altered the green from "a drab olive," which would get him a finger wagging from Sargent. However, the rest is original down to the slightly dowdy chromework on the grille.

He said he had also ordered some remade parts from Brian Joseph of Classic & Exotic Service in Troy, Mich., adding that they were very expensive. "These cars are expensive to own," he said. "You don't argue with the price."

He also had to rebuild the engine. He said Cade had blown the engine in 1952 and, when he bought the car, the engine was "in a million pieces." Shappy has a full workshop on his property where he and a team of assistants work on classic cars and motorcycles.

Sargent said the conserve and preserve movement also serves to keep collectors honest. "In today's market, there are a lot of fakes, and when a car is bright and shiny, it's sometimes hard to see that it has a fake body and the wrong engine, that it's a 'bitsy,' " he said, describing such vehicles as being made up of bits of this and bits of that.

"You can't come up with a 50-year patina – it lends a certain honesty," he said.

Sargent and Nicotra are out at Pebble Beach this weekend where Nicotra's Bugatti has a good chance to win Best of Class in Prewar Preserv­ation. However, Sargent said he knew of at least one other vehicle that presented strong competition.

"There's a Chrysler Imperial, from 1932 I believe, that is one of the best Chryslers on the planet," he said. "It's a big contender."