Antique Auto Show Draws Record Crowd
By Janis Gibson
A record crowd, on September 8, 2007, attended the 56th Annual Fall Meet of the Fairfield County Region Horseless Carriage Club of America in a joint meet with the Antique Automobile Club of America, held on the grounds of the historic Lonetown Farm for the seventh year. The Redding Historical Society, which hosted the event and was the beneficiary of the $8 adult admission fee, was hoping to attract more than 400 paid attendees; the count for the sunny afternoon was nearly 500.

"We were extremely pleased with the turnout," said David Reed, club president and Redding resident. Both he and Janice Dimon, society president, think the mesh of similar interests has benefited both clubs.

To expand that alliance and enable the members of the two groups to get to know each other better, a preshow cocktail party was held at the Seventy Acre carriage house of Bill King, a club member, on Friday evening. About 100 people attended, while a gorgeous array of antique and classic autos lined the driveway and lawn.

Based on the success of the evening, Mr. Reed, Mr. King and Ms. Dimon said the event will likely be repeated next year, but as a fund-raiser open to the public.

"The cocktail party sparkled; it is something I have wanted to do for several years, and I enjoy working with Dave and Bill," Ms. Dimon said.

The event was coordinated by Redding Historical Society Secretary Colleen McLeod and Caroline Glidden of the car club. Ms. McLeod also prepared most of the food.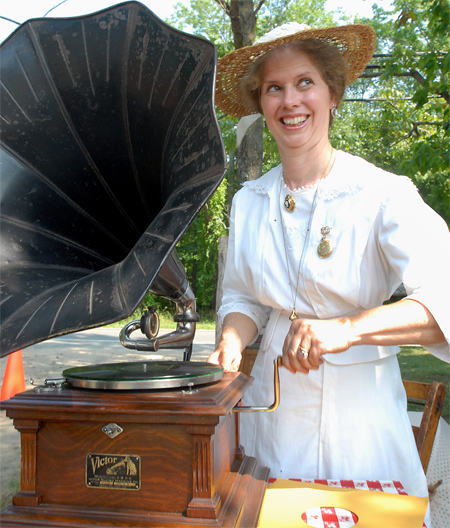 The star of both the cocktail party and antique auto show was undoubtedly Dick Shappy's recently restored 1934 Duesen­berg Model J Convertible Sedan, which was being shown for only the second time. It debuted in the Rhode Island Concours d'Elegance over Memorial Day weekend. In discussing the car at the cocktail party show, he said, "This was an official barn find - it had been unrestored, unmolested for more than 50 years. There are always stories about some 'lost Duesen­berg' out there, but this was the real deal."

The vehicle was not unknown to classic car enthusiasts, but its late owner, Philip Cade, would not let anyone see it. Mr. Shappy, of Warwick, R.I., has been collecting and restoring classic and antique autos for 37 years; he is partial to Cadillacs and because of his collection of cars and spare parts, is known in collecting circles as the Cadillac King. Of learning about Margaret Cade's decision to sell the Duesen­berg, Mr. Shappy said, "I was in the right place at the right time."

But just how much road has the Duesen­berg seen since its restoration? Mr. Shappy and Greg McDermott, one of of his mechanics who accompanied him to Redding, looked at each other and laughed. "Probably about 4,000 feet," said Mr. Shappy. Although he intends to drive it, "at this point," he said, "we don't even know how it handles; it hasn't been test driven yet." The original thought was to drive the car from Bill King's home to the Saturday show, "but when we saw these roads, and being uncertain about the brakes, we didn't think it would be a good idea."

Another guest at the party was Sharon Sahz of Litchfield, who arrived in her brand-new, at least to her, bright yellow 1960 Morgan +4 - the same kind of vehicle Susan St. James drove in McMillan & Wife. She got it Tuesday, registered it Wednesday and drove it to breakfast on Thursday. It was too new for the show, she said, which was limited to vehicles made before 1942, "but a lot of fun to drive."

Among the vehicles owned by Redding residents seen at the show was Mr. Reed's 1906 Orion Buckboard, Lauren McCready's 1935 Chevy sedan, Violet-Ray Sanford's 1926 Mack Bulldog fire truck, and the Tomko family's 1909 Buick Model 10 Tourabout and 1912 Buick touring car.