Tri-State Firefighter Meet
Memorial Beach Park, Webster, Massachusetts May 21, 2017
by Dick Shappy
I attended the Tri-State Firefighter Meet at Memorial Beach Park, Webster, Massachusetts on May 21, 2017 and displayed my 1939 Ahrens Fox for the first time.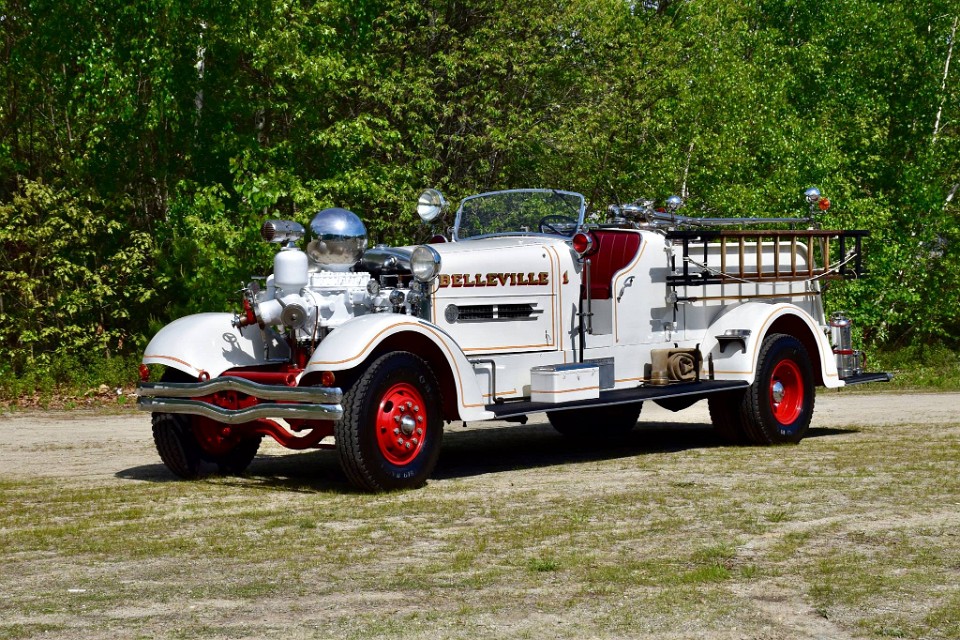 I have always had great interest in early fire apparatus and have been a member of both local and national clubs that are dedicated to the preservation and appreciation of antique fire apparatus. In fact, many years ago, I learned of a fire museum on Cape Cod that was closing its doors and selling off the complete museum inventory of vehicles as well as horse drawn apparatus and a complete inventory of early fire memorabilia. When I came home with seven trucks and was able to store only the smallest LaFrance indoors, my neighbors then knew that there was a crazy guy in the neighborhood. I was able to sell off a few vehicles right away, and then I found storage for the remaining equipment. Since that first involvement with fire vehicles, over 45 years ago, I have learned to be a little more picky and now, I try to own and find space for only the very best.

At the 2016 Antique Automobile Club of America swap meet in Hershey, Pennsylvania, I ran into my good friend, Richie Clyne, from Imperial Palace (Las Vegas) who had a poster board with photos of beautiful early fire trucks that he wanted to find new homes for. Richie was offering about fifty trucks and he told me they were priced to sell. Learning from past experience, I knew that housing, storing, maintaining, and even moving these things could be a lot of work, and it would be expensive too. I thought about it for a few minutes and then asked Richie what he felt was the best truck in his entire inventory. He immediately responded that his 1939 Ahrens Fox HT was absolutely the best available. He showed me photos, and, a few minutes later, the deal was made on a hand shake, and the vehicle was mine.

It took approximately six weeks for the Fox to be prepared, loaded, and shipped to Providence, Rhode Island from the West Coast. By the time it arrived in late November, the weather had gotten extremely cold, so I decided to store the truck and do minor tweaking, repairs, and general cleaning in anticipation of the springtime parades and musters in our area. Richard Quetta, the president of the Rhode Island Antique Fire Truck Club, had been in contact with me and was as eager to see this thing in person to see how she would perform. The previous owner said that the truck had never pumped while in his possession and, as far as he knew, he didn't think this truck had pumped in forty years or so.

On the morning of May 21st. six trucks showed up at the parking lot of my Charles Street warehouse as the first stop on the forty mile trip to Webster, Massachusetts. Since this was to be the first time out with my truck, I decided to have it flat-bedded by a local hauler rather than chance such a trip without first learning more about the operation of this fine machine. We met up with another group of trucks along the way, and arrived at Webster Lake an hour later. Sixty six trucks were on hand for this spectacular event. It was my intention to find out if my truck could be made to pump. These photos will tell the rest of the story.